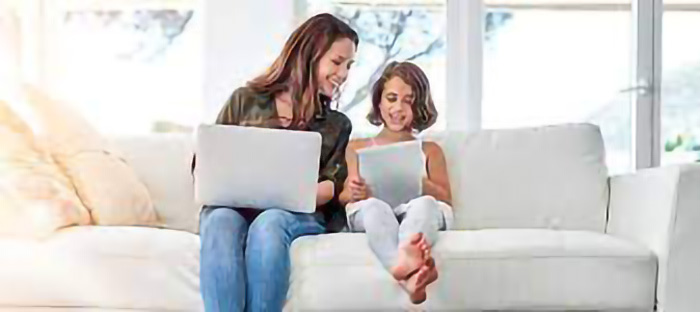 Securing all of the various devices in your home is vital to prevent cyber-attacks and to close gateways to harmful content. But this can be tough when you have an entire family to protect, which may include young children or elderly parents – all connected to a variety of IoT devices in your home. People look for solutions to secure their devices, and a survey found that more than 9 out of 10 parents mediated the time that their child spent connected to the internet, so this is clearly an issue that requires an effective solution.
75% of parents actively seek out information on how to protect their children online, with priorities often being to block harmful or unsuitable web content and support time-windows for homework and bedtimes. When it comes protecting the elderly, preventing malware and phishing rank among the top priorities. Taking all of these risks into consideration, you can see how difficult it is to identify a universal solution that can provide a safe internet experience for the whole family.
So what type of solutions are consumers looking for? According to a report from Ofcom in the UK, parents are seeking technical tools such as content filters, that also allow them to set rules and restrictions around online access. Direct supervision and regularly discussing online safety with children have also been highlighted as key ways to mitigate risk.
There are a number of tools currently available on the market that can provide a decent level of protection, including hardware devices that can also be incorporated into routers. Yet these devices are often expensive to set up and come with ongoing subscription charges. Other options include cloud services with content filtering and malware blocking - but these are generally quite basic offerings that are far from flawless. And while premium software - if you can afford the expense - may be an effective, feature-rich option for personal computers and laptops, many IoT devices simply don't have the processing power to support it.
Service providers have quickly recognized that there is an opportunity to add value to their 'network pipe' by offering security as a service right at the root of each customer's network. The offerings that we've seen so far are good options for blocking harmful content for children, but there is still room for a solution that is better tailored to consumers' needs.
For example, it's essential to ensure that the system can be easily accessed through mobile devices for both ease of use and convenience. Administrators should be able to configure filtering profiles for different people and various types of devices, so that specific websites are restricted to some users but accessible to others. The ability to set rules around specific times for your children such as bedtime and homework time would also see to it that children do not spend too much time online. Furthermore, mobile push notifications for security alerts could prevent damage and protect privacy if the service is protecting smart ovens, heating systems, webcams, and other IoT devices.
As digital disruption continues to revolutionize industries, consumers are acquiring more and more IoT devices. It's clear that the only option for thorough protection of our smart homes is through network-based security - straight from the broadband provider. We now have an opportunity to confront safety as well as security online, and offer a consolidated package that gives parents and other uses peace of mind.
Stay tuned to discover what Open-Xchange is working on to satisfy these needs and provide users with a way to protect their families.