Hostpoint has been shaping the internet in Switzerland since 2001 and is now the country's largest web hosting provider and domain registrar, with more than one million managed domains. We caught up with the company's Chief Strategy Officer Yvan Knapp to talk about the company's growth and future direction, along with the important role email has played in supporting Hostpoint's success…


1. Yvan – thank you for your time. Could you please give us a little bit of background on yourself and your role at Hostpoint?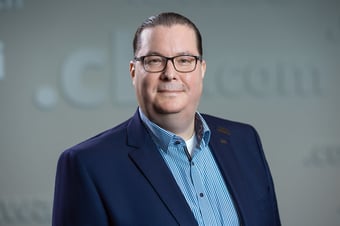 In my role as Chief Strategy Officer, I'm responsible for defining and implementing strategies that will deliver growth for Hostpoint. I continuously scan the business and technology landscape for trends and disruptive events that create opportunities. As I am also responsible for product management, I execute parts of the defined strategic projects myself.
I've been working at Hostpoint since 2008, and was previously at Swisscom, where I was responsible for the webhosting product portfolio.
2. We know that Hostpoint is now Switzerland's largest web hosting provider and domain registrar, but could you please just talk a little bit about how you got to this point and what it looks like as a company?
I think the success of Hostpoint can be traced back to the early days of the company, where
the founders took a very disruptive approach, by offering a simple environment that let customers create and manage both simple and complex internet projects independently. They also focused on delivering excellent service quality and – award winning – customer service, all at a fair price.
The company is still owned 100% by its two founders, and both still have the same passion for products and support that they had when they founded Hostpoint more than 20 years ago. They always had a long-term view of building a sustainable company, reinvesting the proceeds from business success in technologies, innovations, and people, rather than looking for short-term profit – and that has helped us to achieve continuous growth year on year.
The company has never been solely about hosting. We've always had value added services, often being the first to partner with providers in the Swiss market. Recently, we have hit the milestone of one million domains under management.
3. How important do you feel has email been in helping you deliver on your strategy?
There's always been a close relationship between hosting and email, and email has played an important role in Hostpoint's growth, as well as in helping reduce churn. However, with email services, you have to offer the best, as customers rely on it as a key communication channel with their colleagues, customers, and partners.
4. How many customer mailboxes do you have?
We currently host around 750,000 email addresses on our servers.
5. You've been working with Open-Xchange for several years now; why did Hostpoint originally choose Open-Xchange, was there anything that stood out for you?
Until 2007, we worked with a number of webmail services, but they didn't deliver what we needed – that's when we began working with Open-Xchange. It was a perfect fit from the beginning, in terms of the company's vision, the platform's reliability and the Open-Xchange team. Another important aspect was the ability to customize certain aspects of the service, like hosting the service on premise and adding our own branding. Over the years, the two teams have worked together closely as Open-Xchange expanded its product and delivered on its vision and roadmap.
Part of the challenge we faced – and still face today – was around privacy, with many customers questioning what the hyperscalers were doing. Open-Xchange offers a real alternative, which we host in our own data centers in Switzerland.
6. Which Open-Xchange products do you currently use; how are they deployed?
We currently run OX App Suite in our own data centers in Switzerland, which means that it's under our control and allows us to allay customers' privacy concerns.
7. What do you see as the biggest benefit(s) of working with Open-Xchange?
Alongside the capabilities of OX App Suite, one of the biggest benefits of working with Open-Xchange is the professionalism of the team – particularly around release management and communication, which allows us to successfully execute long-term planning. Talking to our systems engineers, Open-Xchange is a brilliant example of how this should be done.
Open-Xchange is also great in terms of how it does business. I've already mentioned how they delivered on the vision (which matched Hostpoint's very closely), but we've always had a win-win working relationship, where both companies benefit from working together.
Finally, OX App Suite is not a copycat solution – it is a very useable platform, with all of the features our customers use, developed from the clear vision that was set out to us more than 15 years ago.
8. How closely do you work with the Open-Xchange team?
In the early days, we worked very closely with the Open-Xchange team, but very little these days – which is a good thing, as it means that everything is working as it should. Whenever we do have to engage with the team, any issues are resolved quickly.
On the business side, there is complete transparency, with regular updates around developments on the platform and quarterly reviews with our account team.
9. What do you think is next for email – both in terms of the market and Hostpoint?
Like everybody else, we're looking closely at what Artificial Intelligence will deliver around email and associated tools.
We saw Open-Xchange's innovations around AI at CloudFest and see real interest in capabilities that will help drive efficiencies in communication, including more intelligence added to calendars, as well as emails – almost like a digital assistant. Average professionals probably spend a significant part of their working day interacting with email and calendar tools, so streamlining associated processes will help them save lots of time.

10. Which technologies are you watching closely, and think will change the way your customers communicate?
We see a lot of possibilities around how people interact with more traditional communications tools and platforms – particularly around voice, along with new AR devices that are coming to market and could change the way everyone engages with tools like email.
New developments with technology are also making people more conscious of privacy, so I expect there to be more services appearing that make sure the issue is addressed. I'm not sure what they will look like yet, but it's certainly and exciting time!
Find out more about Hostpoint.
Learn more about the OX AI feature within OX App Suite.