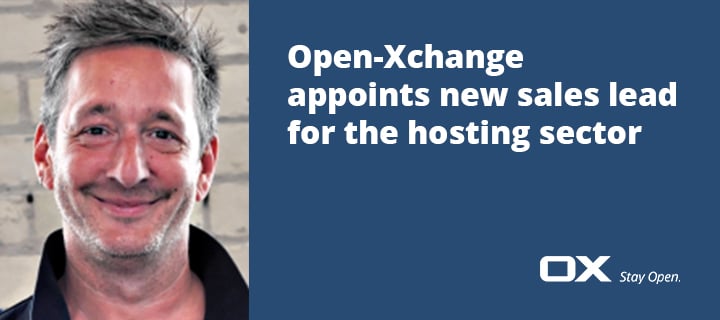 Open-Xchange, the developer of secure and open communication and office productivity software, IMAP server software and DNS solutions, today announced the appointment of Thorsten Einig as its VP Hosting Sales.

Einig brings vast experience in the sector and has held a range of senior positions in the hosting space over the past 20 years, both in Europe and North America. Starting his career at Ionos, he joins Open-Xchange from Tucows, where he was responsible for driving the company's growth in EMEA.
Open-Xchange already works with many of the world's largest hosters, and has developed a range of business models specifically for hosters to offer premium email and collaboration tools to end-users via its fully hosted OX Cloud platform.
Thorsten Einig, VP Hosting Sales at Open-Xchange, said: "This is a really exciting time for Open-Xchange, as OX Cloud opens up its premium email platform to hosters of all sizes. The focus on introducing cloud-based email and communications tools to hosters, using its innovative sector-specific business models, along with its roadmap and growth ambitions were all key factors for me joining the company."
Frank Hoberg, co-founder and Chief Sales Officer at Open-Xchange, said: "We have a heritage of providing our email solutions to some of the largest hosting companies in the world, and already have more than 200m users. Our cloud-based platform now means that it is easier and more cost effective for hosters of all sizes to offer premium email services to their end-users, and Thorsten's experience in the sector will be critical when we're talking to hosters, no matter what their size."
For further information about OX Cloud and Open-Xchange's No Cost No Risk business model for hosters, visit https://www.open-xchange.com/products/ox-cloud.