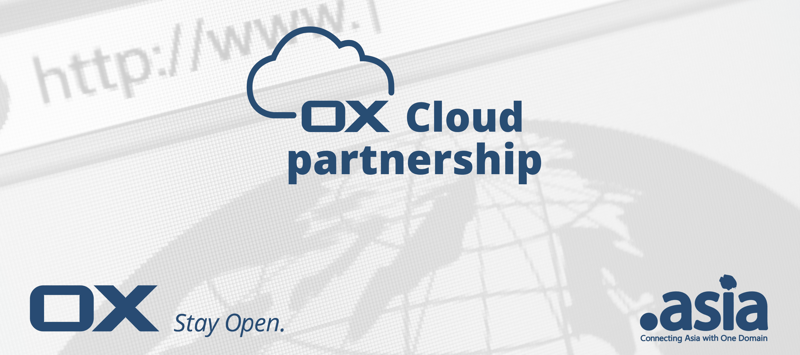 Offers domain providers innovative business models to include premium email and collaboration tools with DotAsia domains
Domain registrars and resellers across Southeast Asia can now include premium email and collaboration tools for their small and medium-sized enterprise (SME) customers, with the creation of a partnership between Open-Xchange and DotAsia.

The partnership means that domain registrars and resellers now have access to a range of innovative business models and discounts to offer SMEs registering a .Asia domain access to OX Cloud – Open-Xchange's premium email and collaboration platform, which includes email, calendar, address book, tasks, and drive, along with security.
This will enable businesses with little or no IT knowledge to seize emerging opportunities by digitalizing their business communications and benefit from being able to keep in touch with customers, partners, suppliers, and colleagues easily and cost-effectively.
The Covid-19 pandemic highlighted the importance of e-commerce, digitalization and remote access to communication and collaboration tools, irrespective of company size or sector. And, despite ongoing pandemic uncertainties, Southeast Asia's digital economy will be central to the region's economic recovery, which will be supported by regional ties and intra-Asia trade, offering SMEs opportunities for growth and expansion.
Leona Chen-Birkner, VP of Registrar Relations at DotAsia, said: "Asia is the fastest growing part of the internet, and SMEs underpin the economy of the region. As a result, .Asia domains are a natural choice for businesses coming online. The pandemic has transformed and accelerated the digital economy in the region. Our partnership with Open-Xchange will help Southeast Asia based SMEs to continue to build trade ties and communication across the region – both of which are deepening like never before."
Frank Hoberg, Co-founder and Chief Sales Officer at Open-Xchange, said: "SMEs are the backbone of the regional economy in Southeast Asia. By offering better digital tools, innovative business models and discounts so that domain registrars and resellers can offer them OX Cloud when they buy their .Asia domain, we can help drive more effective communications with customers, partners, and colleagues, and open up new channels and opportunities for companies of all sizes."
For further details about OX Cloud, visit https://www.open-xchange.com/products/ox-cloud.