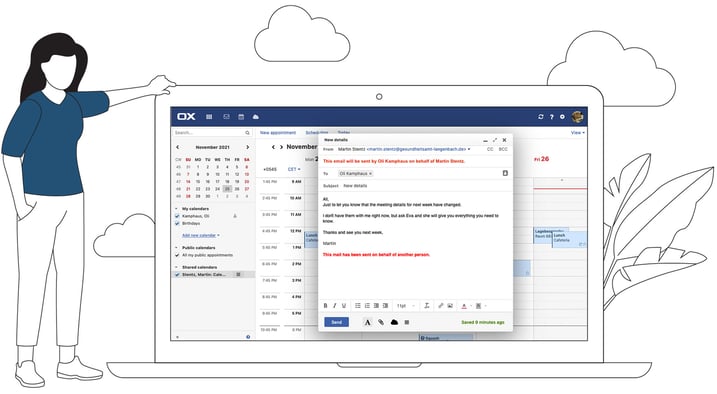 With every update to Open-Xchange's products, we increase their functionality and ease of use, in order to improve useability. The latest releases are no different, and today we have announced new versions of three of our products – both our messaging and collaboration platform, OX App Suite, and office suite, OX Documents, now ship as version 7.10.6, and OX Guard, OX App Suite's security add-on, is also available as version 2.10.6.
The latest version of OX App Suite introduces new address book search and contact picker for large organizations, which enables search for contacts across all departments (cross context and configurable LDAP search filters).
In addition, OX App Suite v7.10.6 improves the handling of OX Calendar's cross context sharing. As a result, users can now share personal and public calendars with other users from different organizations or environments. Calendars shared by users outside of a particular environment are now also displayed in the user's folder tree – before this release, users could only share calendars with other users within their environment, but not with users outside.
OX App Suite v7.10.6 also provides improvements within OX Mail, including centrally managed 'functional mailboxes' which users can easily subscribe to and are shared with other users within the same organization.
Automatic Processing of Scheduling Mails
Calendar invitations received via email are now automatically processed and saved as soon as an invite email arrives in a user's inbox. Now, new appointments, updates, cancellations, or replies from participants will directly appear in the user's calendars.
OX Mail On-behalf of Management
In some situations, a user may wish to delegate management of their email and calendar functions to another user. Typical reasons for this include sickness cover, vacation replacement, or substitution of an employee on parental leave. As a result, Open-Xchange has introduced a completely new concept to work 'on-behalf of' another user in OX Mail and OX Calendar.
You'll find more information about the middleware enhancements and all new features and functions in the OX App Suite v7.10.6 in the Feature Overview.

If you have any questions or need additional information regarding OX App Suite or any other OX solution, please contact us or reach out to your OX account manager.