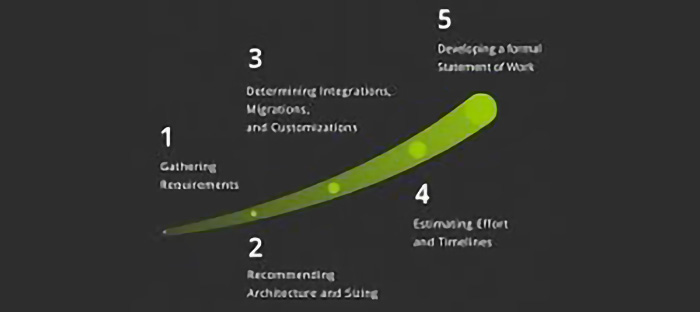 At Open-Xchange, we aim to be a trusted partner in your business. A key part of this partnership is our Sales Engineering team. The OX Sales Engineering team works with your team to find the right technical solutions for your needs and brings in the right technical experts. Even before you are an OX customer, Sales Engineering takes care of implementation planning and recommends the best path forward. They provide technical project management and develop a competitive estimate and a comprehensive timeline for delivery.
In addition to our Sales team, the OX Sales Engineering team is one of your first contacts with Open-Xchange while planning your project. This OX team supports you right at the beginning by gathering your requirements and recommending specific architecture and sizing of your hardware and software. The end result of this phase is a well-planned project structure that leaves no space for errors.
Our 5 best practice steps involve:
Gathering Requirements
Recommending Architecture and Sizing
Determining Integrations, Migrations, and Customizations
Estimating Effort and Timelines
Developing the formal Statement of Work
With this best practice, the OX Sales Engineering team helps you make the right choice as you deploy Open-Xchange products.
Learn more about our Sales Engineering team here or reach out to us for further assistance and specific questions about how we can support your project.