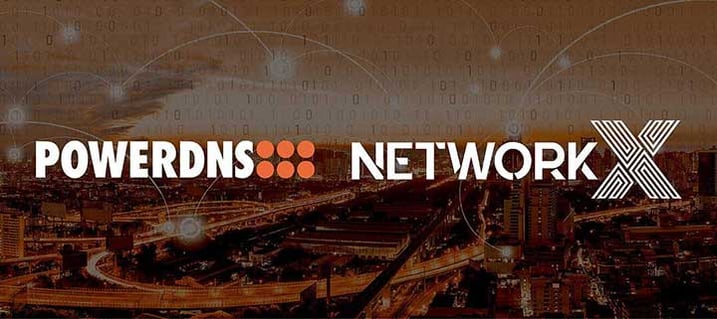 This year, for the first time, Network X took place in Amsterdam, the Netherlands. As a new format, Network X combines the existing Broadband World Forum and 5G World events and brings together the fixed and mobile markets in one place. It also complements the two established events with a new platform, Telco Cloud.

PowerDNS did not miss this opportunity to meet partners and customers physically and was at the event. In addition to exciting presentations and spontaneous conversations with other exhibitors, we were able to discuss the latest industry challenges with our guests and how PowerDNS solutions can help meet new requirements, including:
5G DNS
PowerDNS is the first DNS solution designed to be deployed in 5G networks. It is fully cloud-native and offers extremely high performance. PowerDNS for 5G networks currently enables UE DNS, recursive DNS to subscribers, including support for running lightweight forwarders in MECs to drastically lower latency. It also supports infrastructure DNS, recursive and authoritative DNS for internal servers and services, including GSLB functionality.
Cloud-native DNS
PowerDNS is the first fully cloud-native DNS solution, providing unparalleled ease of deployment with Helm Charts, elastic scaling, and encrypted DNS support. Telcos with plans to move their infrastructure to cloud-native should be considering how and when their critical DNS infrastructure is upgraded to take advantage of the many benefits cloud-native can bring, e.g. elastic-scaling DNS in response to network demand such as live-streaming of sporting events.
Security and content filtering with DNS
PowerDNS supports all aspects of security filtering, including malware and botnet filtering as well as parental controls, either network wide, or integrated with the network as part of a value-added service. PowerDNS software includes sophisticated DDoS and anomaly detection capabilities to prevent malicious DNS traffic from entering your network.
Encrypted DNS on Routers/CPEs
As encrypted DNS and encrypted SNI become standardized, the traditional methods of intercepting traffic in routers/CPE are becoming obsolete. PowerDNS provides a lightweight DNS proxy optimized for low-cost hardware, that has been designed to handle encrypted DNS and provides hooks that can be used for interception and control of DNS on the router/CPE.
We would like to thank all our visitors and people we met for the interesting and thought-provoking discussions. We also congratulate the Network X team on a successful event and are already looking forward to the next one in 2023.