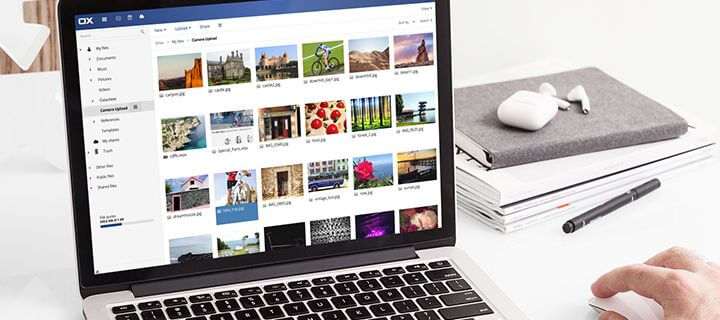 We are pleased to announce the release of new versions of three of our products: Both our messaging and collaboration platform, OX App Suite, and office suite, OX Documents, now ship as version 7.10.5; And, OX Guard, OX App Suite's security add-on, is also available as version 2.10.5.
OX App Suite Usability Updates
The new version of OX App Suite introduces "Federated Sharing" capabilities, which provides support for document sharing, secure permission handling and document versioning. This provides a seamless integration of shared data and a smooth user experience, as remote data can now be accessed in the same way as if it's stored locally. As a result, collaboration is now even easier.
To support this new concept, the sharing dialog boxes have been significantly updated and allow a user to choose their sharing options in one dialog box.
With OX App Suite v7.10.5, OX Drive also sees some enhancements. It is now possible to upload entire folders with drag & drop from the desktop to OX Drive; Users can also upload more than one folder in a single step. In addition to using drag & drop, folders (and files) can also be uploaded from the desktop using a new "Upload" toolbar. Finally, we have introduced a different approach to permission handling when moving folders and sub-folders.
OX App Suite v7.10.5 delivers improvements to the end-user experience. Email drafts are now automatically saved in the drafts folder, which means that they are available on other devices by default. We have also redesigned the top bar layout, so users will now find the main menu of all available modules on the left side. Additionally, the dropdown elements on the right side have been reordered. The new version also provides updated "What's New" and "Connect your Device" dialog boxes.
Improved Collaboration in OX Documents
OX Documents v7.10.5 now provides @mentions in OX Text. Comments are often used to collaborate with other people. As a result, in order to make sure that someone sees a comment related to them, it is now possible to direct ​ comments to specific people with @mentions.
We have also updated OX Presentation with both performance and usability features. These include a completely new "Slide Show" toolbar, which lets users start a presentation directly from OX Presentation. This reduces clicks and makes the whole experience feel much more connected. Users have the choice to start from the first slide or the current slide – again, making the experience far more streamlined. There is also an option to start the presentation directly in full screen. Also, while presenting, the user now has an in-presentation toolbar. This contains items including next/previous slide, a full screen toggle switch and a virtual laser pointer. This 'red dot' pointer can be used to focus people's attention on specific sections within a presentation.
Finally, we have significantly improved image handling by enabling users to employ images as backgrounds (including being able to vary the transparency). As a result, images can now be placed above or behind other images or text, providing increased flexibility when building slides and unlocking a user's creativity!
OX Guard v2.10.5 – seamlessly integrated with OX App Suite v7.10.5
OX Guard v2.10.5 provides enhancements to existing functionality in OX App Suite v.7.10.5.
You'll find more information about the middleware enhancements and all new features and functions in the OX App Suite v7.10.5 Feature Overview and OX Documents v7.10.5 Feature Overview.
If you have any questions or need additional information regarding OX App Suite or any other OX solution, please contact us or reach out to your OX account manager.