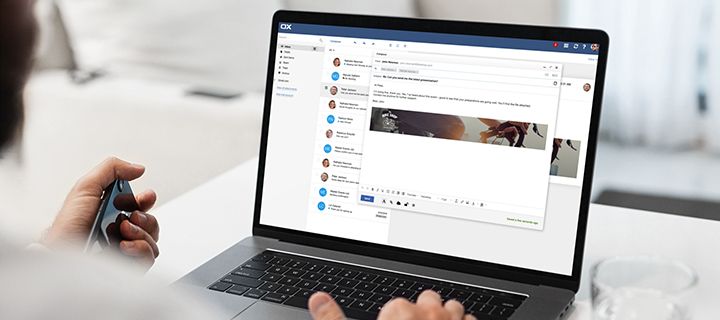 We are happy to announce that Open-Xchange has just released new versions of three of its products: both the messaging and collaboration platform OX App Suite and the office suite, OX Documents, now ship as version 7.10.4. OX Guard, OX App Suite's security add-on, is also available as version 2.10.4.
New Designs and User Behaviors in OX App Suite
This new version of OX App Suite provides visual and design updates to already available functionality. The updates are based on user feedback, testing as well as vision. For example, similar to calendars, it is now also possible to subscribe / unsubscribe from shared contact and task folders. It is also possible to manage which folders are used for synchronization via CalDAV and CardDAV.
With OX App Suite v7.10.4, Open-Xchange has updated the look-and-feel of the OX Mail compose dialog, the login page and the floating windows. This will provide a fresh look and improved the user experience.
In addition, the feedback feature has been extended to provide feedback via Net Promoter Score (NPS). System administrators can now control when, and how often, the feedback interface will be displayed to end users.
Support of Additional Storage Providers in OX Drive
"Nextcloud", "ownCloud" and WebDAV are popular online storage solutions that focus on sharing. Integration of these providers into OX App Suite v7.10.4 is useful for the end users, as well as partners. For this reason, OX App Suite v7.10.4 has expanded the "Add storage account" Dialog in OX Drive to include these providers.
Improved Collaboration in OX Documents
This version of OX Documents introduces improved real time editing to all modules. To make collaboration even more efficient, multiple users can now edit the same document, spreadsheet or presentation, at the same time. Users viewing, or working on, the same document are able to see all edits in real time: as they type. Collaborators can not only edit text at the same time but also edit any other element in OX Documents, such as drawings or tables.
Additionally, OX Documents v7.10.4 provides the @mentions feature in OX Spreadsheet and OX Presentation. Comments can help to make a document easier to understand by providing additional context or information. Comments are also often used to collaborate with other people. To make sure that someone sees a comment, it is now possible to direct a comment to a specific person with @mentions.
In addition, to allow simultaneous document viewing and multitasking, documents can now optionally be viewed in separate browser tabs.
OX Guard v2.10.4, Seamless Integrated in OX App Suite v7.10.4
The new version of OX Guard v2.10.4 provides some new improvements that enhance existing functionality in OX App Suite v.7.10.4. Users are now able to create rules that automatically encrypt specific incoming emails. Additionally, it is possible to create rules based upon PGP signatures.
Additionally, with a newly introduced user option, decrypted messages can be automatically re-encrypted when another email is selected, or if the user switches to another module, such as calendar or contacts.
Please find more information on the middleware enhancements and all new features and functions in the OX App Suite v7.10.4 Feature Overview, OX Documents v7.10.4 Feature Overview and OX Guard v2.10.4 Feature Overview. Feel free to reach out to your Open-Xchange account manager or contact us if you have any questions or need additional information.