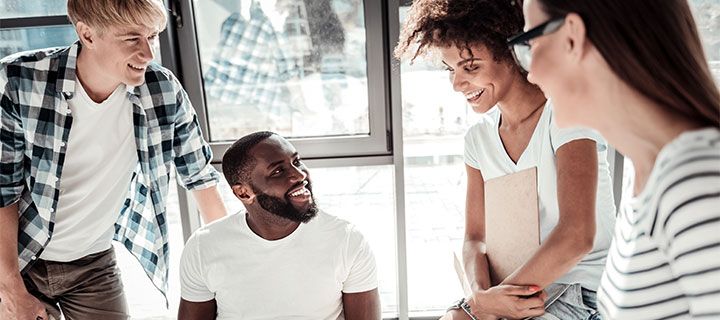 We are happy to announce that Open-Xchange has just released new versions of three of its products: Both the messaging and collaboration platform OX App Suite and the office suite OX Documents now ship as version 7.10.3. OX Guard, OX App Suite's security add-on, is available as version 2.10.3.
New Designs and User Behaviors in OX App Suite
This new version of OX App Suite provides some updates to already available functionality based on user feedback and testing. For example, the 'quick launch' feature, located in the top bar of the web frontend, now lets users set up, and configure, 5 Quick Launch Icons.
Additionally, with OX App Suite v7.10.3 Open-Xchange has re-designed the look and feel of the floating windows. The new dialogs are now enhanced with more shadowing. This provides deeper visual depth and nicer user experience.
Again, with the user experience in mind, we have re-design the Contacts dialog to be more visually pleasing. It is now cleaner, more visually pleasing and user-friendly. For example, the column that shows the complete list of contacts now displays the contact names, company information, the business location and the uploaded contact picture. Also, the detail view has been restructured and now shows all information in one single column. This new structure aims to be more readable on a variety of devices and resolutions. The contact pictures and the language settings are also displayed at the beginning of the detail area.
In addition to the new look and feel, OX App Suite v7.10.3 introduces more flexibility when it comes to regional settings. We have added a new regional setting dropdown to the general settings section. This lets users create a more customized regional setup for their OX App Suite. In the past, the selected language determined all the regional settings, such as the date and time formats, the start of the week (Sunday vs. Monday) and how to calculate the first week of the year. The new version retains this functionality, but if the user wants to override these defaults, they can click on the "More regional settings" link and adjust each element.
Improved Collaboration in Documents
This version of OX Documents introduces a small but important new feature. The comment feature in OX Spreadsheet and OX Presentation now allows users to respond to comments. This feature should help improve efficiency and centralize feedback to documents within the document itself.
OX App Suite GDPR Compliant Ready
As per Article 20 of the GDPR Regulation users have a "Right to data portability". To comply with this requirement OX App Suite v7.10.3 now provides users with the ability to export personal data.
OX App Suite already provides export functionality where a user can already export data manually from each of those components (exporting individual folders in the Calendar module or exporting individual emails via email download).
This new version of OX App Suite now provides a one-click download option, found in Settings. The user now has the option to request an export of OX App Suite related application data that is related to them.
Please find more information on the middleware enhancements and all new features and functions in the OX App Suite v7.10.3 Feature Overview and OX Documents v7.10.3 Feature Overview. Feel free to reach out to your Open-Xchange account manager or contact us if you have any questions or need additional information.